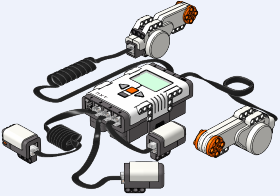 LSynth is a program that synthesizes bendable parts for LDraw files. For information on LDraw, please visit www.ldraw.org, the centralized LDraw information site.
Features:
Synthesizes flexible and rigid hoses, pneumatic hoses, ribbed tubes, electrical cables, fiber optic cables, and flexible axles.
Synthesizes rubber bands, rubber belts, rubber tread, plastic tread, and chains.
Synthesizes string, and string with plastic grips.
Can be expanded with user generated synthesis types. Examine the lsynth.mpd file for instructions.
Instructions:
Download a package for your OS.
Examine these detailed examples. Then make your own. Have Fun!
---
LEGOŽ and the LEGO logo are registered trademarks of The Lego Group, which does not sponsor, endorse, or authorize this site. You can find the official LEGO website at http://www.lego.com.